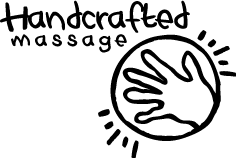 Daily Steps to Preserve and Prolong
The Positive Effects Of Your Massage
Drink at least 0.5 oz. of fresh water per 1 lb. of body weight.


Maintain a neutral sleeping posture by using pillows to bolster the extremities to keep the spine straight.


Stretch.


Be aware of your posture during your day especially if sitting for long periods of time.


Apply ice packs on painful areas (20 minutes.)


Decrease the intake of caffeine and sugar as much as possible These stimulants can increase pain perception and dehydrate the body.


Breathe slowly. Extend the inhale.


Develop a positive attitude.


Simplify and prioritize and take stress breaks.


Love yourself.


Health Information form
Screening Questionnaire form
Body Map for Clients
Health Status Update form
Client Feedback form
Physician's Permission form
Physician's Referral form

© Copyright 2019 Handcrafted Massage. All rights reserved.